Hi Everyone! Today's post is not creative (at least not in the papercrafting sense). I thought I would post some belly pictures of me and tell a little more about myself. My husband and I already have 4 little blessings. Well, I can't believe how excited I (we) am (are) to be expecting another one! I love being a mom and wife:)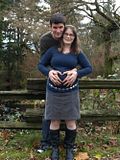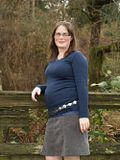 I know the heart thing is overdone, but we had to take one anyways.
I don't know why these pictures are showing up so small, but there you have 'em! Have a good day!